A process and result-driven approach to building startups and driving economic impact in the region.
Consistent with STTE's mission and the efforts of other community members working to create an innovative environment that nurtures entrepreneurs and creative problem solvers in El Paso, STTE will assist 20 local start-ups over four years that require support and training to develop their idea into a viable, market-ready start-up. STTE's methodology will focus on five foundational pillars; People, Place, Partners, Program, and Pitches.
We seek to leverage a proven model to motivate entrepreneurs, bring in best-in-class relationships with investors, mentors, and partners to attain accelerated growth. Consequently, successful participants will likely beget local investment, new opportunities, and employment in the region. STTE proud to partner with the City of El Paso Economic Development, Inicio Ventures and other entrepreneurial ecosystem building partners and provide start-ups with access to subject matter experts, other entrepreneurs, and industry leaders, who will be able to workshop new ideas with emerging entrepreneurs, strengthening El Paso's startup community by increasing the number of thriving local businesses and entrepreneurs.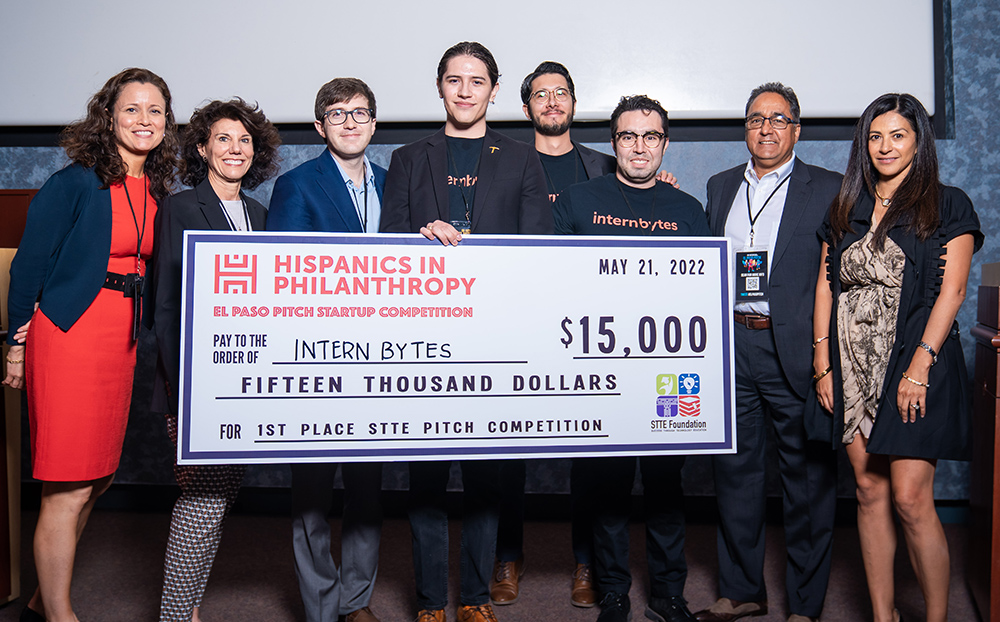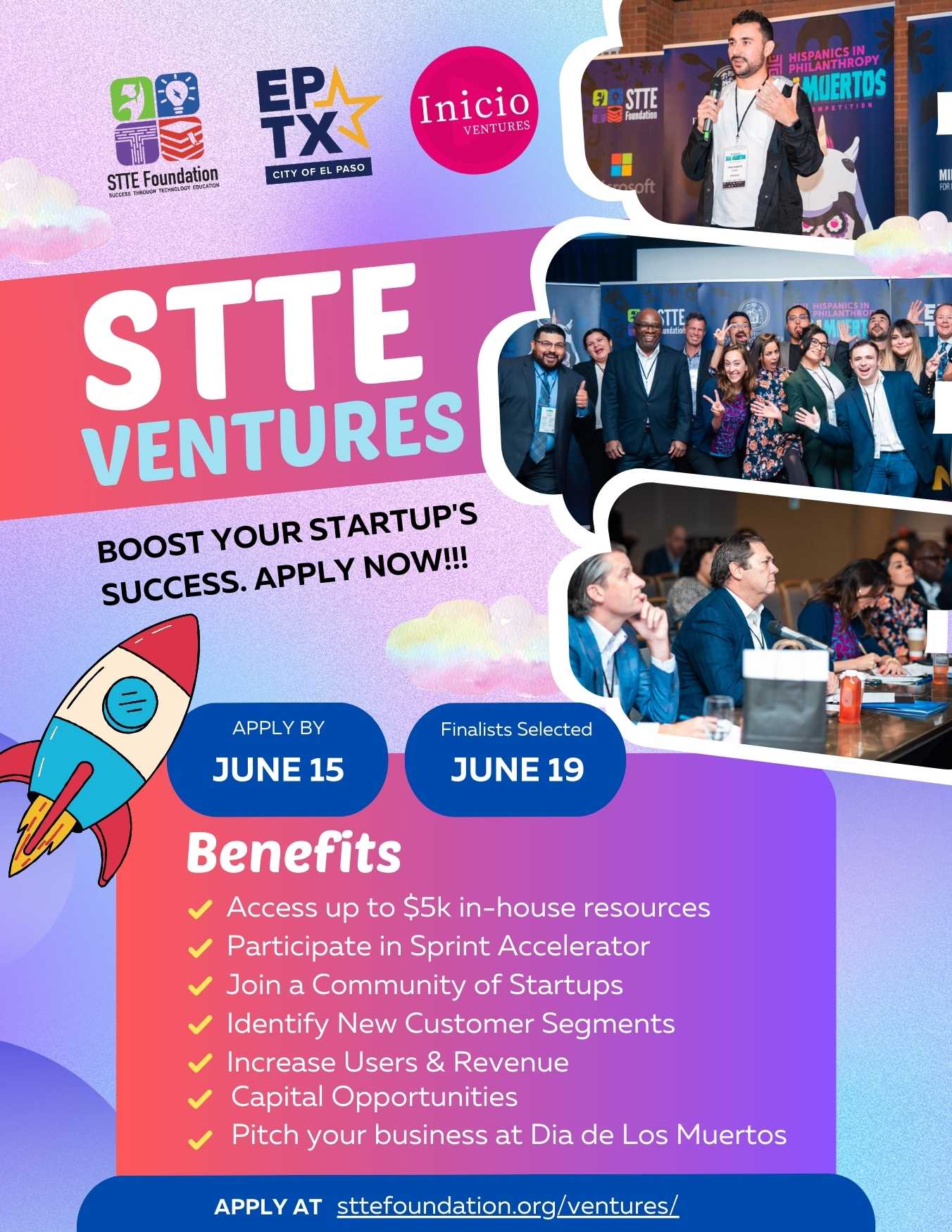 STTE Ventures will be a four-year program that assists startups through a three phase journey focusing on five foundational pillars of People, Place, Partners, Program, and Pitches. During the program, startups will collaborate in an entrepreneurial ecosystem that features the industry leading business model canvas, high-tech sprint and culminates with an access to capital pitch event. Startups' success will be measured on their ability to identify new customer segments, increase users, access venture capital, increase revenue and grow contractor/staff.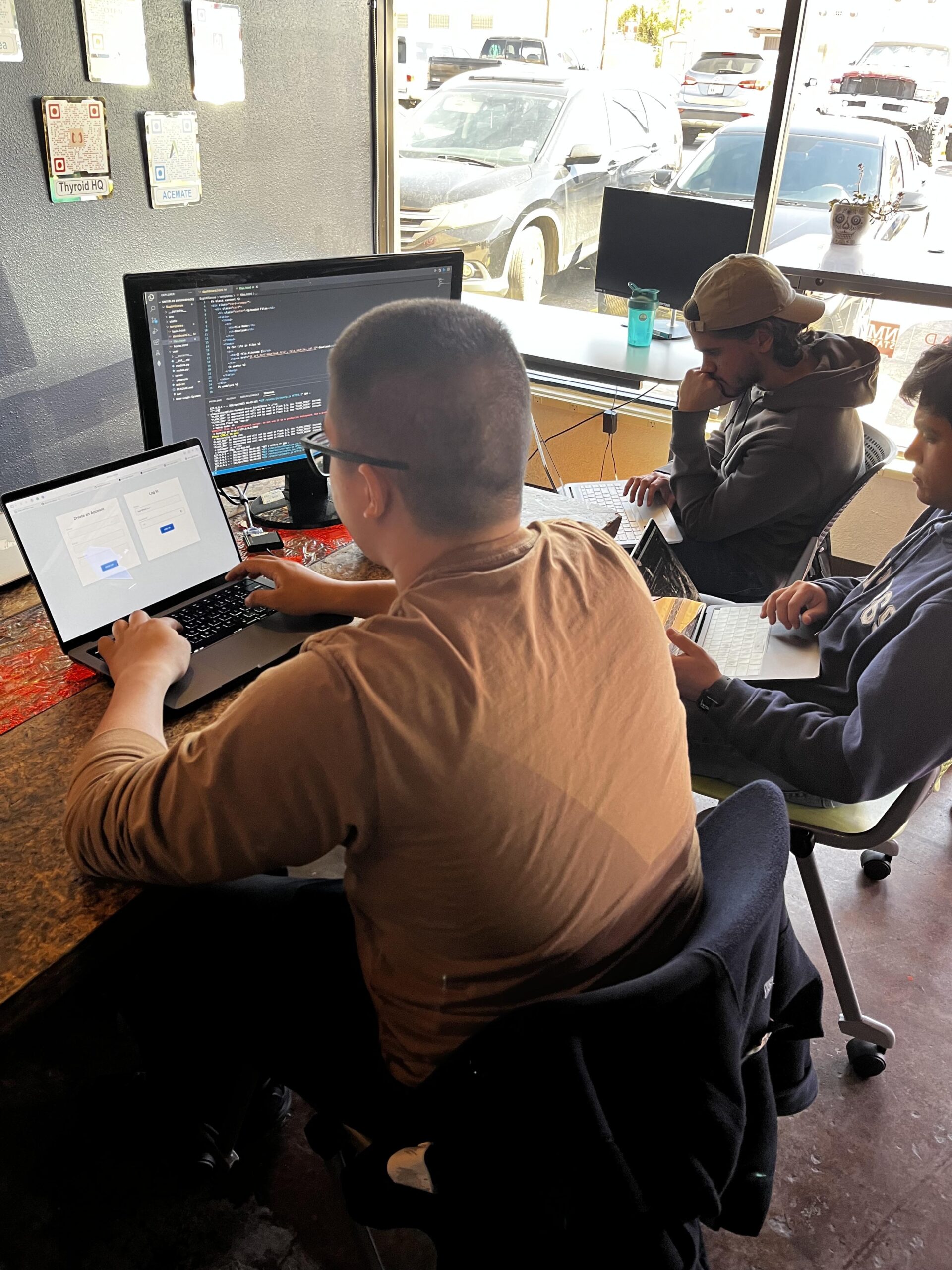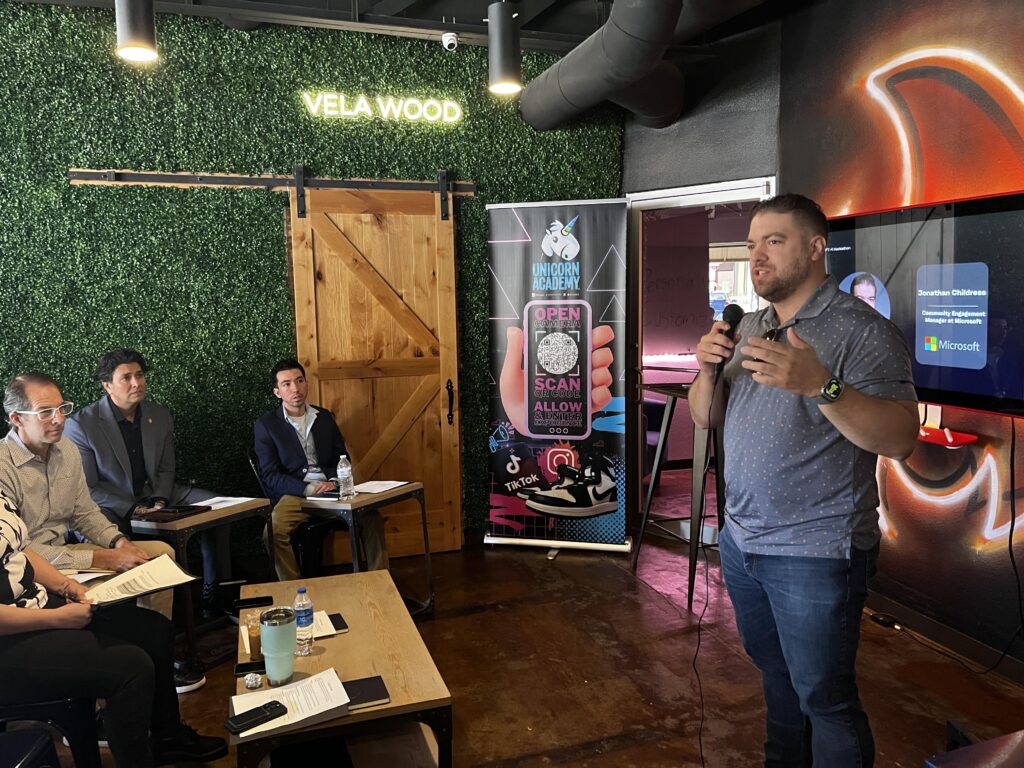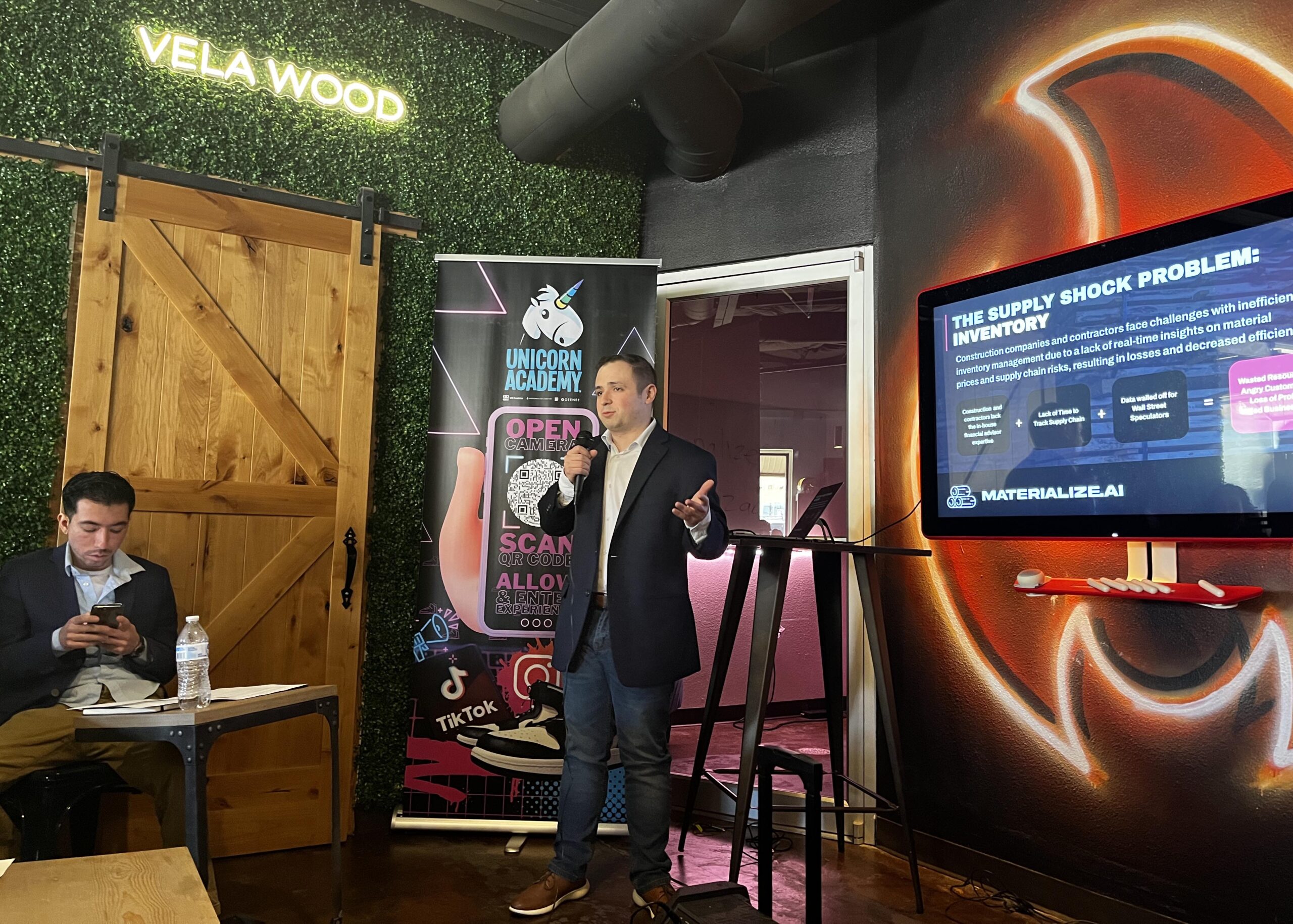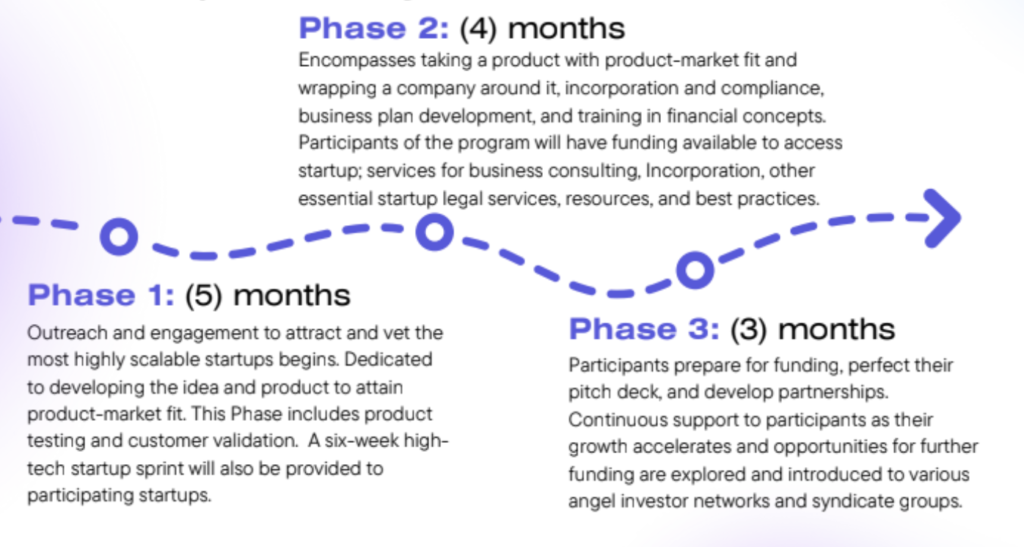 Access to pitch at Dia De Los Muertos 

Up to $5k in-house resources

Sprint accelerator 

Community of other startups

Identify new customer segments

Increase users 

Increase revenue

Gain access to capital opportunities 

Grow your team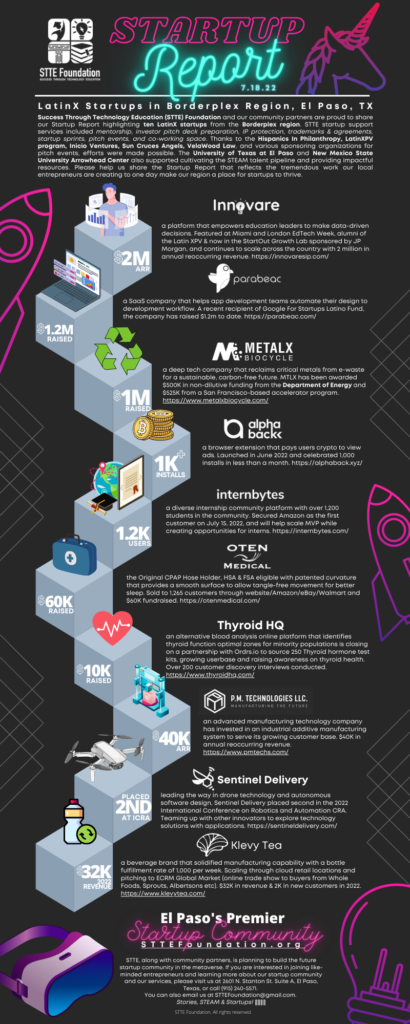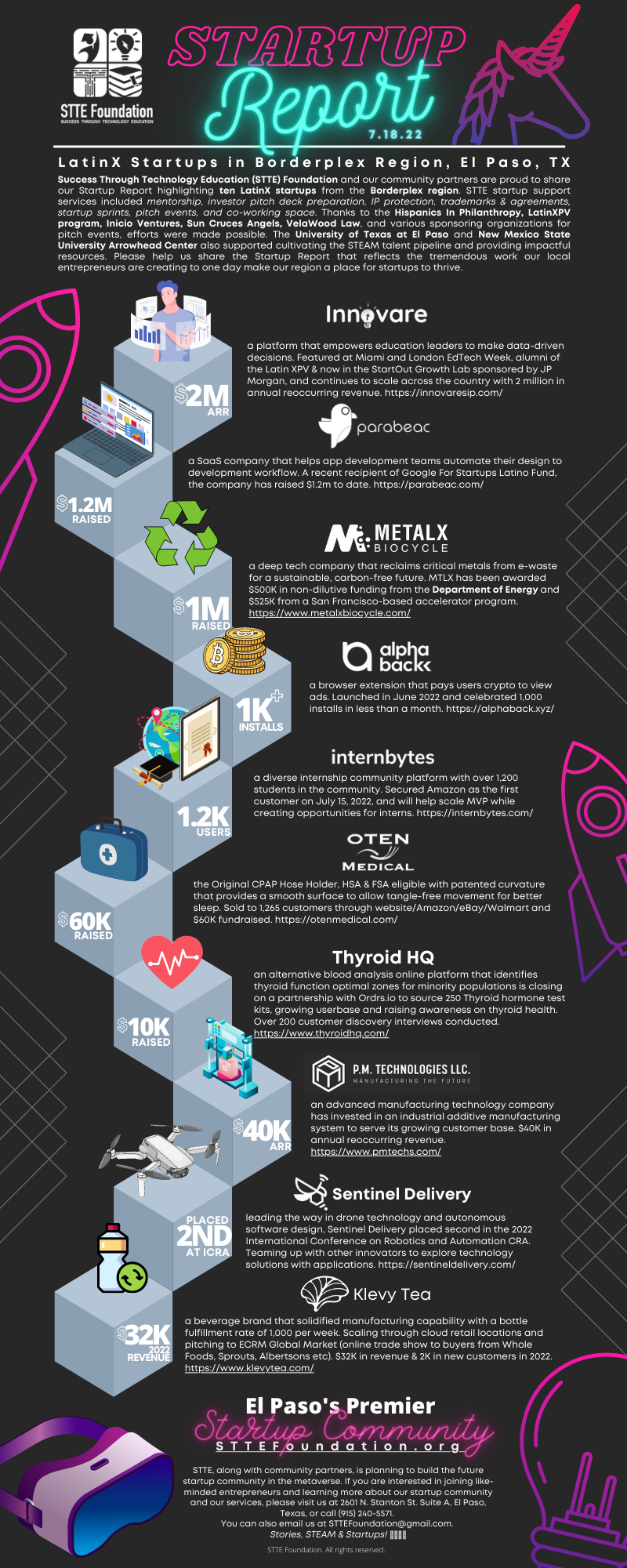 This eligibility criteria aims to ensure that the startups entering the STTE Ventures program are well-positioned to benefit from the resources and opportunities provided, and are aligned with our mission of fostering a vibrant startup ecosystem in the El Paso region.
Incorporation:

The startup must be a legally incorporated entity in the U.S., with appropriate documentation to verify its status.

Location:

The startup must be based with the majority of the founding team in the El Paso region. We prioritize supporting and nurturing our local entrepreneurial ecosystem.

Stage of Development:

The startup should be beyond the ideation stage, with a minimum viable product (MVP) or prototype in the works. This allows us to better assist with growth and scaling strategies.

Industry:

The startup can be from any industry with a connection to the Borderplex region but should have a clear technology or innovation aspect to its business model or product/service. This is to align with our focus on tech and innovative businesses locally. 

Commitment:

The team must demonstrate a full-time commitment to the startup and participate in STTE Ventures programming. This is essential to make the most of the resources, mentorship, and networking opportunities provided in the program.

Team:

The startup should have one founder with an emphasis to expand co-founding team. We've found that solo founders can face significant challenges in scaling their startups, and having a co-founder provides additional support and resilience.

Market Potential:

The startup should target a significant market opportunity, with potential for high growth.

Revenue Model:

The startup must have a clear and plausible revenue model. This ensures the startup has a sound business plan and is more likely to achieve financial sustainability.

Social Impact:

While not mandatory, startups that demonstrate a potential for positive social impact in the El Paso region will be given special consideration.

Legal Compliance: The startup must be in compliance with all relevant laws and regulations, and should not be involved in any legal disputes.
The selection process for the STTE Ventures program is designed to identify the most promising startups with the greatest potential to scale nationally. Here is how it works:
Application Review:

After the application deadline, our team will compile and review all applications. We consider a range of factors, including the potential for scale, level of traction, strength of the team, and alignment with our program's objectives.

Prioritization:

In this phase, we prioritize startups that show significant potential for scale and have demonstrated tangible traction in their markets. We're looking for startups that have a strong foundation and are ready to take their growth to the next level.

Council Review:

The prioritized applications are then presented to our Startup Council, a group of experienced entrepreneurs and industry experts. They provide additional insights and perspectives, helping to ensure a balanced and comprehensive evaluation process.

Selection:

Based on the application review and Council recommendations, we then select the top five startups to join our program each year. This selection reflects our confidence in these startups' potential to succeed and make a significant impact in their respective fields.
Our selection process is both rigorous and supportive, designed to ensure that the startups that join our program are those best positioned to benefit from the resources, mentorship, and opportunities we provide.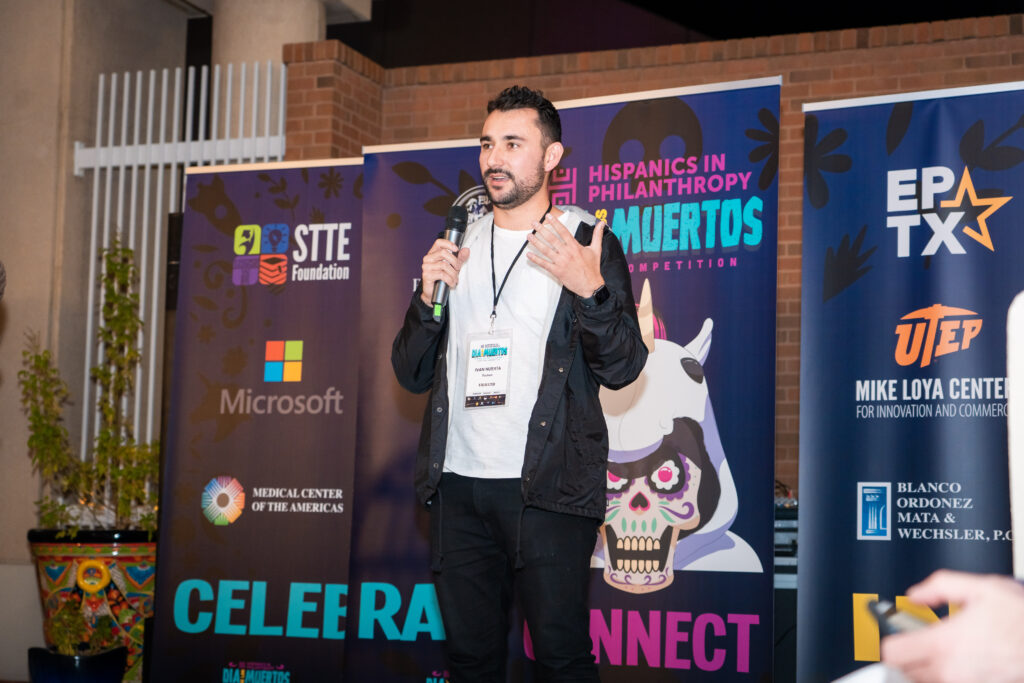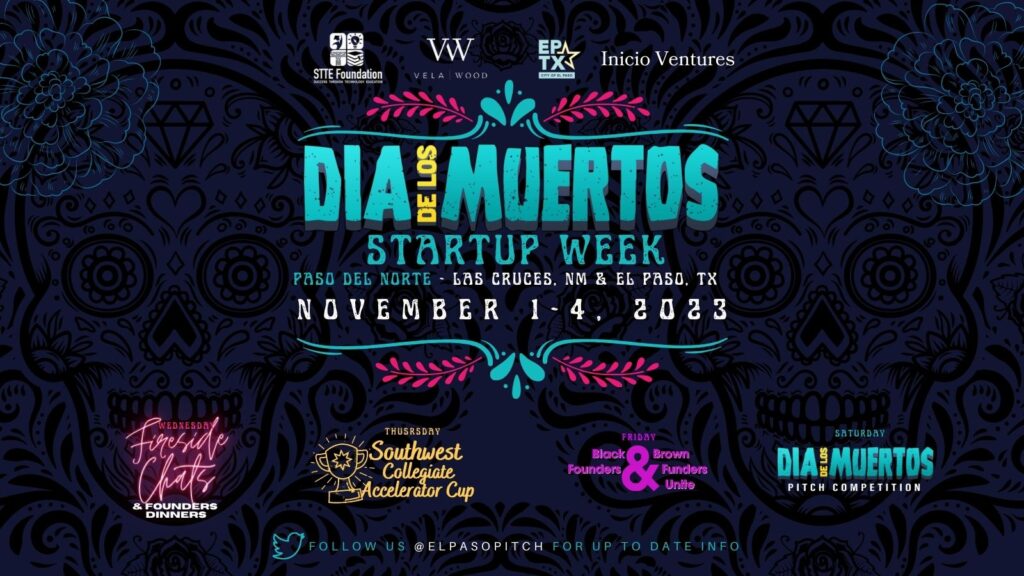 Attention startup founders and funders! Are you looking to take your business to the next level? Join us for Dia de Los Muertos Startup Week, a four-day event designed to help entrepreneurs grow and thrive.
Day one, on November 1, 2023, features Fireside Chats with experts in startups and technology, as well as Founders Dinners that connect you with the vibrant southwest startup ecosystem. This is your chance to network with mentors, learn from the best, and build valuable connections that can help you grow your business.
On day two, November 2, 2023, we're hosting the first-ever Southwest Collegiate Accelerator Cup, where top teams from university accelerators will battle it out for a chance to win capital and the first-ever "Startup Cup." This is a unique opportunity to showcase your skills, meet fellow entrepreneurs, and gain exposure for your business.
Day three is all about Founders & Funders of Color. Join us for panel discussions and workshops on Angel Investing, Access to Capital, Tech Ecosystem Building, and more. This is your opportunity to learn from experts in the field, connect with like-minded entrepreneurs, and gain the knowledge and skills you need to succeed.
Finally, on November 4, we're hosting the third Dia de Los Muertos Startup Pitch Competition sponsored by Inicio Ventures, where early-stage and seed-stage startups will compete for a chance to access capital. This is your opportunity to pitch your business to investors and potentially secure funding.
This is your chance to connect with other startup founders and funders, learn from experts, and take your business to the next level. Follow us on Twitter @ElPasoPitch for updates and information.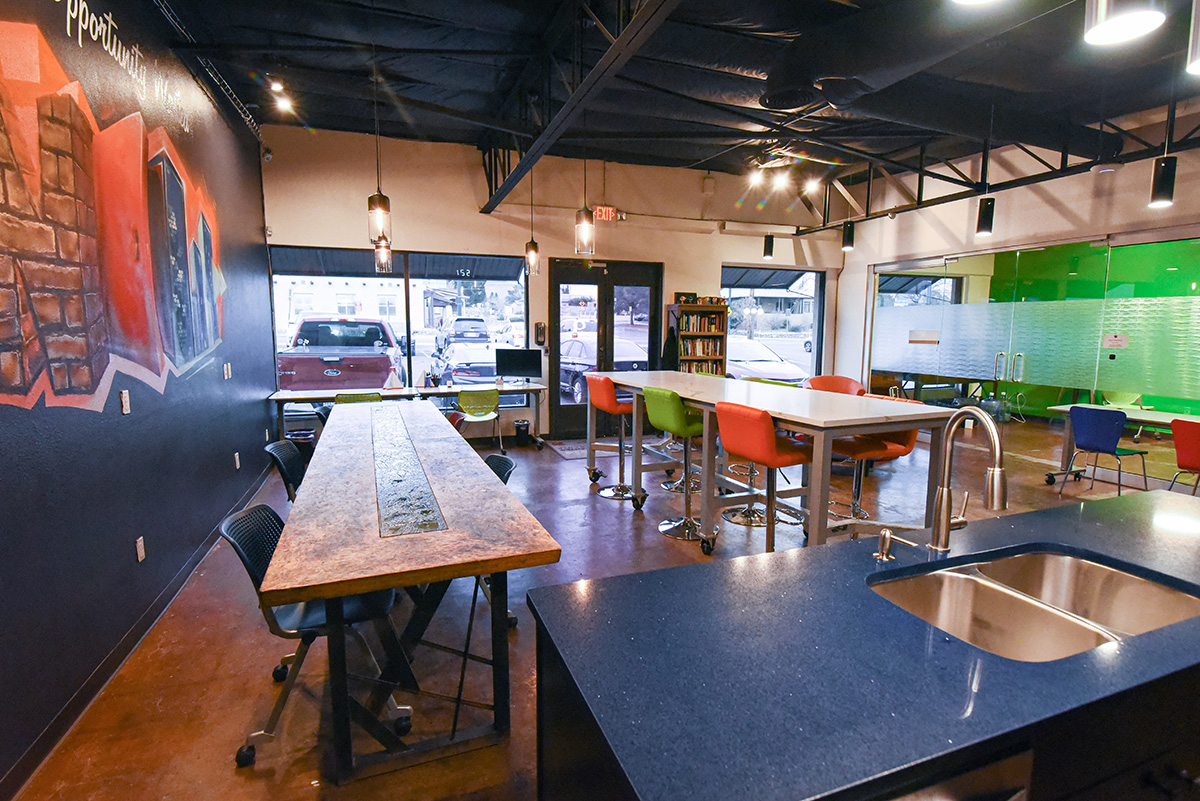 STTE is a vibrant coworking space that brings together some of the most innovative and exciting startups in El Paso. As a premier startup community hub, STTE offers state-of-the-art technology equipment and a futuristic interior design decor to create an atmosphere that is truly inspiring and forward-thinking. Currently, STTE is home to a diverse and talented group of members who are working tirelessly on social innovations that can scale and have a positive impact on the world. Some of our standout members include Parabeac, InternBytes, Innovare, Squadpiolot, Aizen, ThyroidHQ, Panoculum and Acemate, among others. Located conveniently across from the University of Texas at El Paso, at 2601 N. Stanton St., Ste A, El Paso, TX 79902, STTE is the perfect place to work, collaborate, and make connections that will help you take your startup to the next level.