Insights Science Discovery and Success Through Technology Education (STTE), two of El Paso's leading STEAM education non-profits, have partnered to revamp and enhance student experiences with a new engaging Science Fair. Enhancements include scholarships, swag giveaways, cash prizes, a virtual, augmented reality capstone book, and travel support to the International Science and Engineering Fair competition.
Apply to win an El Paso Electric STEAM Scholarship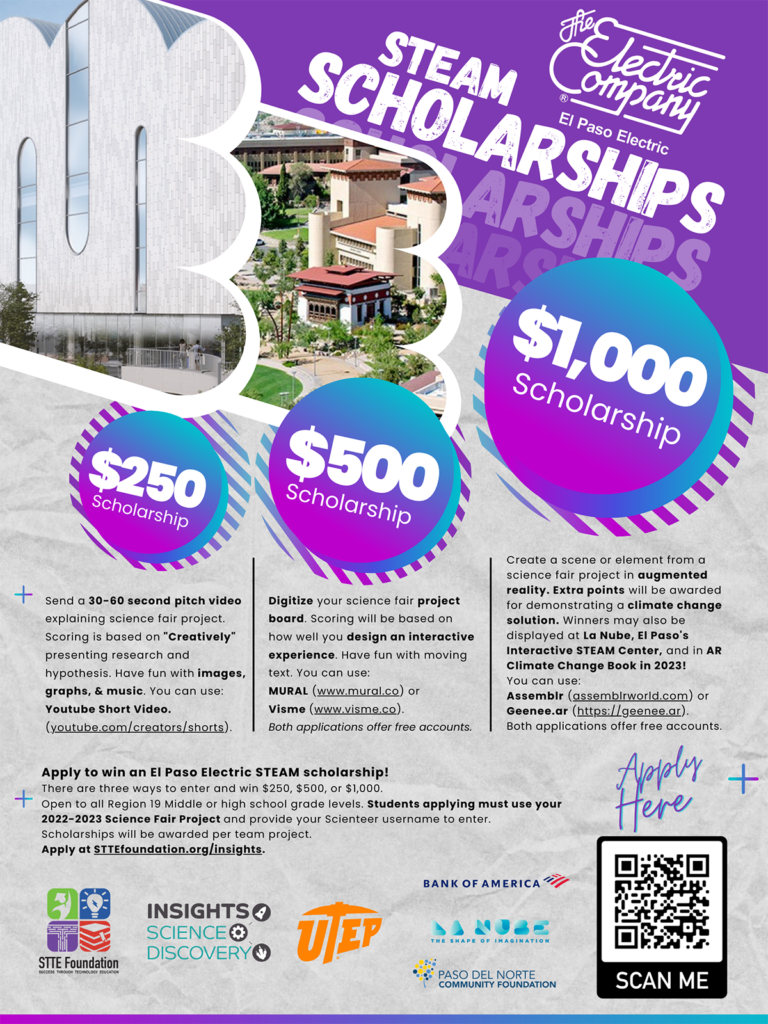 There are three ways to enter and win $250, $500 or $1,000.
Open to all Region 19 Middle or high school grade levels. Students applying must use your 2022-2023 Science Fair Project and provide your Scienteer username to enter. Scholarships will be awarded per team project. Apply by selecting the "Apply" button.
Send in a 30-60 second pitch video explaining your science fair project. Scoring is based on "Creatively" presenting your research and hypothesis. Have fun with images, graphs, and music. You can use:
Youtube Short Video. (youtube.com/creators/shorts).
Digitize your science fair project board. Scoring will be based on how well you design an interactive experience. Have fun with moving text. You can use:
MURAL (www.mural.co) or
Visme (www.visme.co).
Both applications offer free accounts.
Create a scene or element from your science fair project in augmented reality. Extra points will be rewarded that demonstrate a climate change solution. Winners may also be displayed at La Nube, El Paso's Interactive STEAM Center and in AR Climate Change Book in 2023!
You can use:
Assemblr (assemblrworld.com) or
Geenee.ar (https://geenee.ar).
Both applications offer free accounts.
Apply by February 15, 2023
Winners will be announced March 1, 2023
Advancing STEAM in the Region
Winners Featured in La Nube
The top student STEAM projects will be featured in La Nube, El Paso's new interactive STEAM center for the community to exhibit the power of science.
STEAM Scholarships
Students can compete for a STEAM scholarship in one of three ways. 1. Pitch science fair project in a 60 second video; 2. Present your science fair board in an interactive way; 3. Make project 3D (augmented reality).
Interested in Joining the Science Fair
Regional
Compete and win in your District
Registration
Register at Scienteer if advancing to ISEF
ISEF
Held in Dallas, Texas
Register your school to compete by signing up at Scienceteer, designed to guide students, teachers and fair directors through
the required steps to comply with the Intel ISEF competitions.
Simply follow steps and answer questions. All required forms are automatically selected and filled out. The Research Plan is automatically written and formatted. The system guides students in getting signatures electronically online or by using a signature pad on their smart phone/mobile devices!
Easily track your students online, jump into their screens and help them if needed, manage your school fair and electronically submit your winners to the higher fair. No more faxing, mailing, or email your students' forms. Track your entire class through the entire fair process all the way to ISEF. Best of all, no more stacks of project forms!
To guide you and build your science fair projects.
Need a Little Extra Help...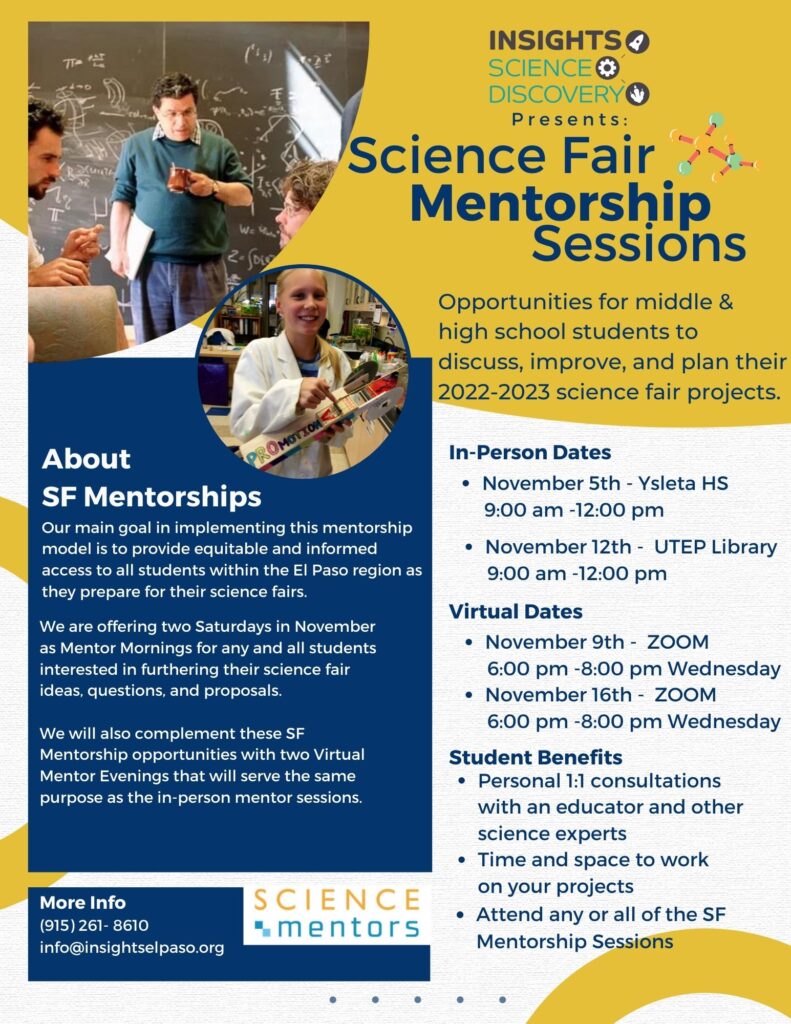 Opportunities for middle & high school students to discuss, improve, and plan their 2022-2023 science fair projects.

Our main goal in implementing this mentorship model is to provide equitable and informed access to all students within the El Paso region as they prepare for their science fairs.
We are offering two Saturdays in November as Mentor Mornings for any and all students interested in furthering their science fair ideas, questions, and proposals.
We will also complement these SF Mentorship opportunities with two Virtual Mentor Evenings that will serve the same purpose as the in-person mentor sessions.
Clint ISD
EPISD
SISD
YISD
Burnhamwood Charter
Catholic Diocese
Harmony Science
Radford School
Want to be part of the Science Fair?
Please read through our partnership guide and contact us if you would like to team up to support the region's premier STEAM Fair!