LatinXPV is an STTE program that assisted ten LatinX startups, through an incremental journey focusing on five foundational pillars of People, Place, Partners, Program, and Pitches. During the program, startups collaborated in two, five-startup cohorts in an entrepreneurial ecosystem that features a business model, sprint and pitches. 
STTE partnered with New Mexico State University Arrowhead Center to deploy a LatinX Sprint that assisted startups with a sprint that focused on pivoting business models to address challenges presented by COVID-19 (e.g. bringing business online, considering new markets and customers, solidifying brand identity, etc.).
STTE also offered support to startups for technology equipment, programmer hours, financial & legal services. (e.g. purchasing of laptops, reimbursement of developer hours, appropriate software, marketing services, accounting services and legal services). 
Parabeac – a SaaS company that helps app development teams automate their design to development workflow. A recent recipient of Google For Startups Latino Fund, the company has raised $1.2m to date. https://parabeac.com/
Metalx Biocycle – a deep tech company that reclaims critical metals from e-waste for a sustainable, carbon-free future. MTLX has been awarded $500K in non-dilutive funding from the Department of Energy and $525K from a San Francisco-based accelerator program. https://www.metalxbiocycle.com/
Thyroid HQ – an alternative blood analysis online platform that identifies thyroid function optimal zones for minority populations is closing on a partnership with Ordrs.io to source 250 Thyroid hormone test kits, growing userbase and raising awareness on thyroid health. Over 200 customer discovery interviews were conducted for validation. https://www.thyroidhq.com/
Innovare – a platform that empowers education leaders to make data-driven decisions. Featured at Miami and London EdTech Week, alumni of the Latin XPV & now in the StartOut Growth Lab sponsored by JP Morgan, and continues to scale across the country with 2 million in annual reoccurring revenue. https://innovaresip.com/
InternBytes – a diverse internship community platform with over 1,200 students in the community. Secured Amazon as the first customer on July 15, 2022, and will help scale MVP while creating opportunities for interns. https://internbytes.com/
OTEN Medical -the Original CPAP Hose Holder, HSA & FSA eligible with patented curvature that provides a smooth surface to allow tangle-free movement for better sleep. Sold to 1,265 customers through website/Amazon/eBay/Walmart and $60K fundraised. https://otenmedical.com/
MusicStar.ai -MusicStar.AI provides a new tool for those developing new lyrics. With the assistance of AI, MusicStar.AI considers previous work and the sound of your preferred artist to bring creations to life, improve the songwriting process, and facilitate the creative process. https://musicstar.ai/
Klevy Tea -a beverage brand that solidified manufacturing capability with a bottle fulfillment rate of 1,000 per week. Scaling through cloud retail locations and pitching to ECRM Global Market (online trade show to buyers from Whole Foods, Sprouts, Albertsons etc). $32K in revenue & 2K in new customers in 2022. https://www.klevytea.com/
Sentinel Delivery -leading the way in drone technology and autonomous software design, Sentinel Delivery placed second in the 2022 International Conference on Robotics and Automation CRA. Teaming up with other innovators to explore technology solutions with applications. https://sentineldelivery.com
FatBat – has developed a wide grip for baseball bats that increases strength in hands, wrists, and forearms while the player swings. Bobby Lopez, founder of the startup, initially saw a need for this product as a parent of 2 young children dedicated to learning the sport. During team practices, he noted a similar trend around players and developed a solution to strengthen players and accelerate results.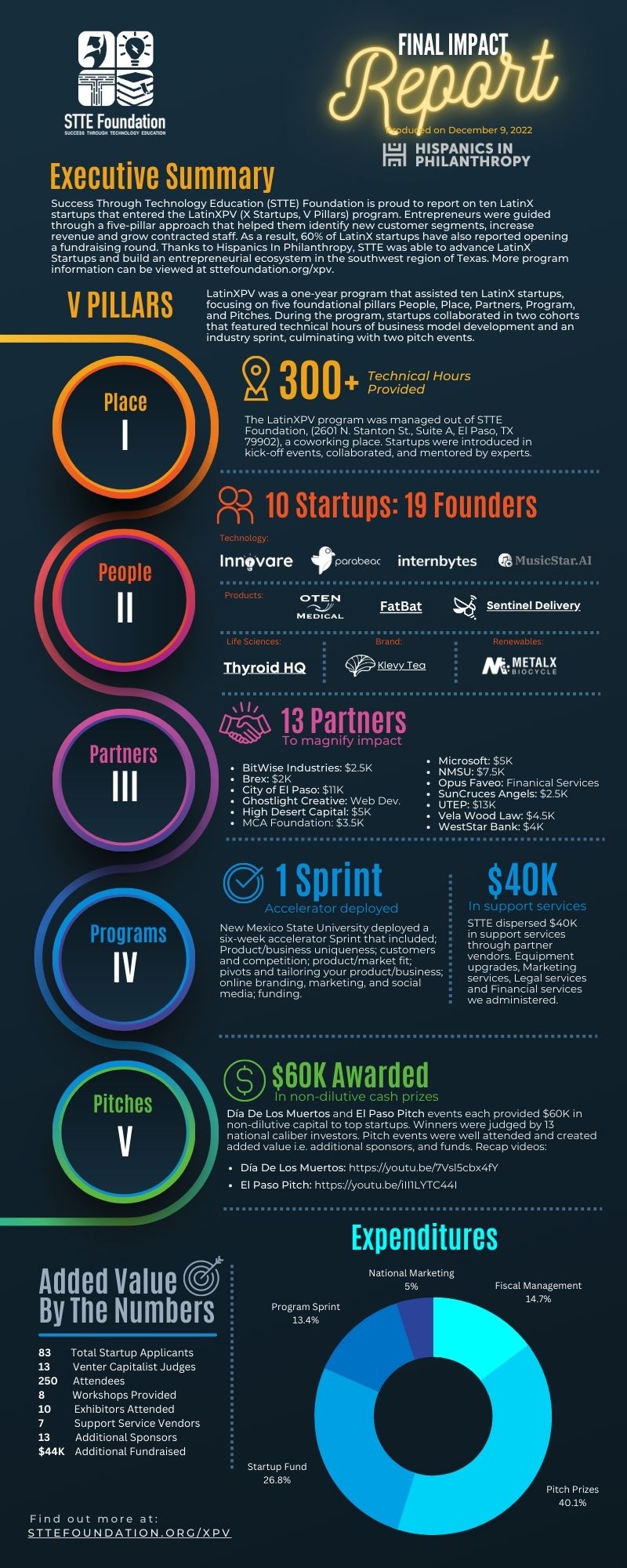 Hispanics In Philanthropy El Paso Pitch Recap Video
Please follow our Twitter feed to stay up-to-date with important announcements.

As of 7.18.2022, STTE and our community partners are proud to share our Startup Report highlighting ten LatinX startups from the Borderplex region. STTE startup support services included mentorship, investor pitch deck preparation, IP protection, trademarks & agreements, startup sprints, pitch events, and co-working space. Thanks to the Hispanics In Philanthropy, LatinXPV program, Inicio Ventures, Sun Cruces Angels, VelaWood Law, and various sponsoring organizations for pitch events, efforts were made possible. The University of Texas at El Paso and New Mexico State University Arrowhead Center also supported cultivating the STEAM talent pipeline and providing impactful resources.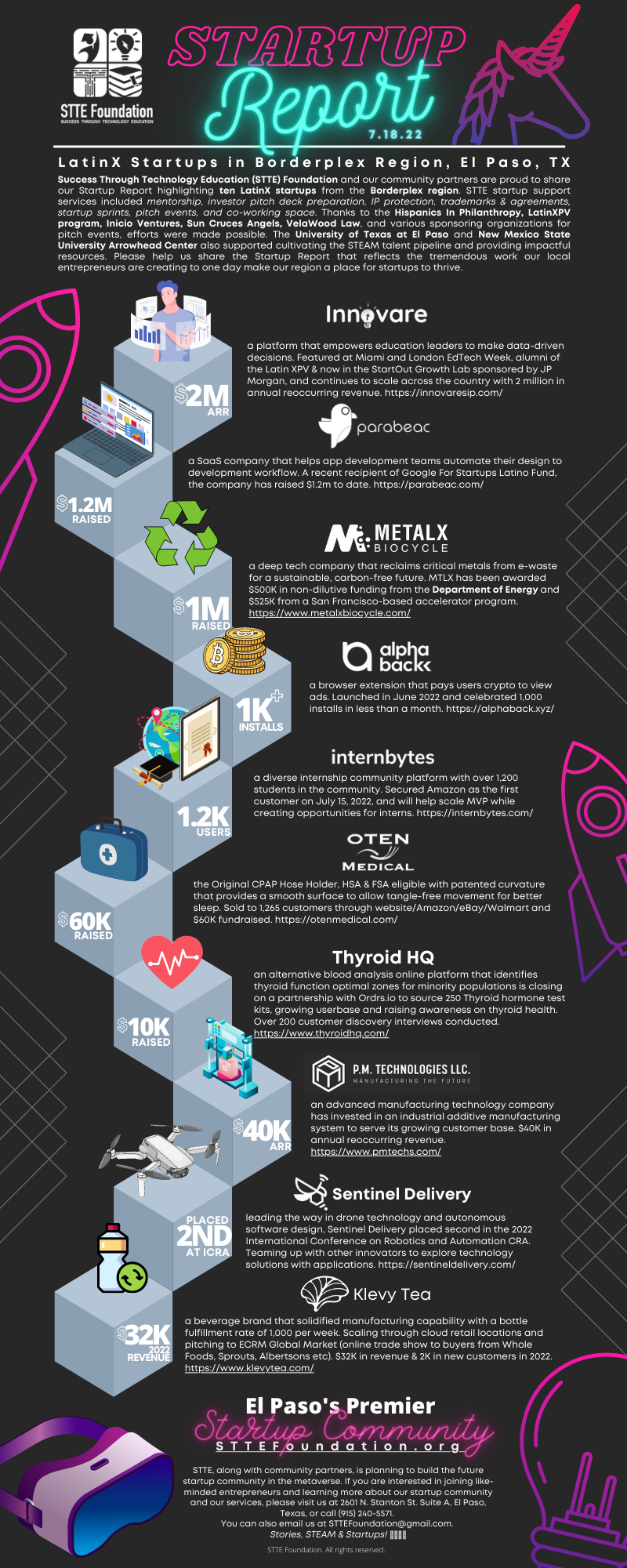 XPV Networking Days: Cohort 2 Kick Off
XPV Networking Days: Cohort 1 Kick Off
Hispanics In Philanthropy Dia De Los Muertos Recap Video