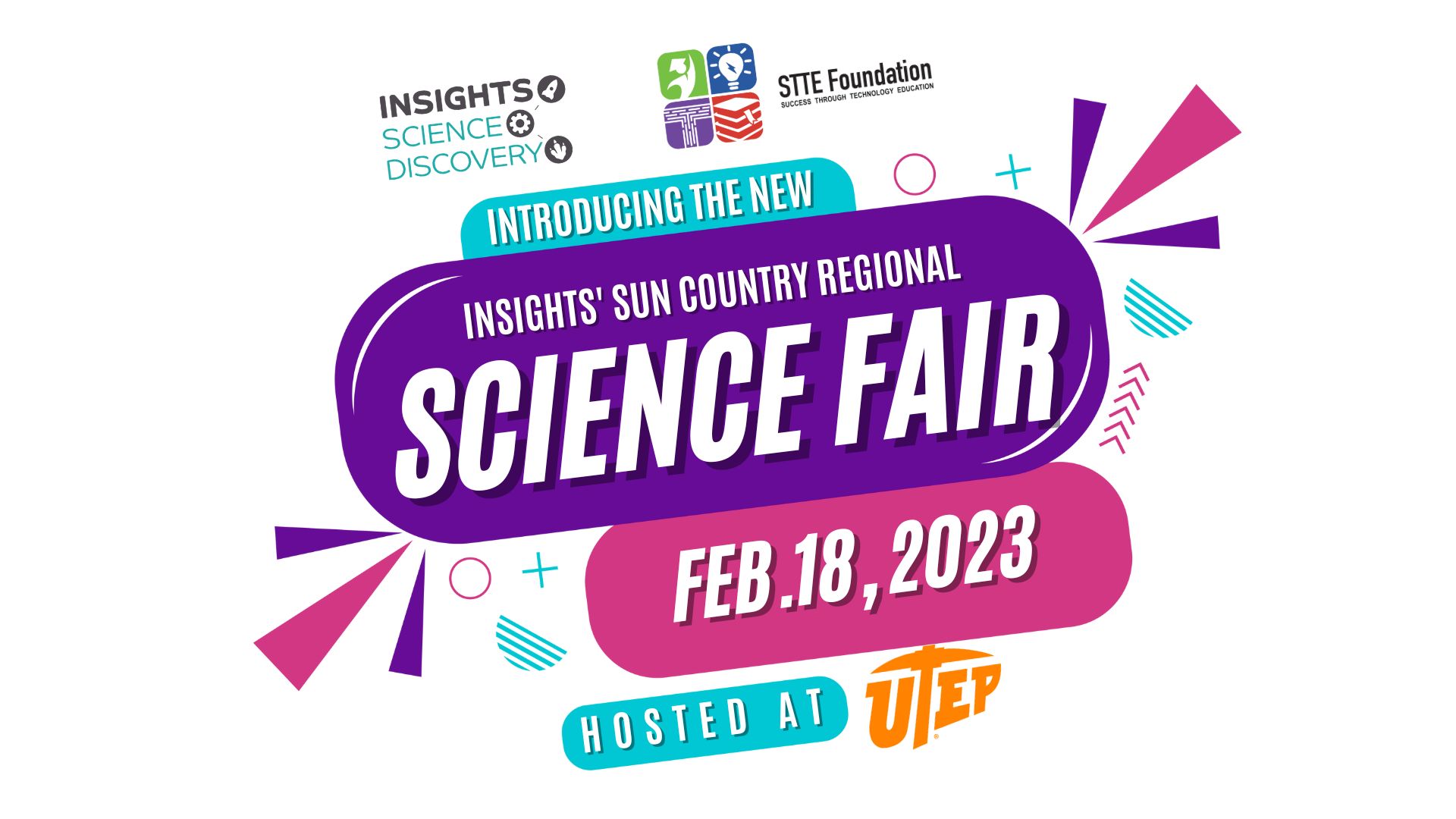 Insights' Sun Country Regional Science and Engineering Fair Highlights the Value of Science Fairs for Youth Development
El Paso, TX – On February 18, 2023, from 8:00 AM to 7:00 PM, Insights Science Discovery and the Success Through Technology Education (STTE) Foundation are hosting the Insights' Sun Country Regional Science and Engineering Fair at The University of Texas at El Paso (UTEP) Memorial Gym in El Paso, TX, located at 101 W Robinson Ave, El Paso, TX 79968.
This year, over 300 middle and high school students from districts around the city are participating in the regional science fair. The winners of the 2023 fair will have the opportunity to move on to the Texas state fair and/or compete at the international science fair held in Dallas, TX, in May 2023.
The new additions to the science fair include $6,000 in scholarships that will be awarded to the top-performing students, as well as cool swag for student competitors. Organizers are excited to bring back the fair to UTEP and are looking forward to seeing the creative and innovative projects from the participating students.
Insights' Sun Country Regional Science and Engineering Fair provides a unique platform for young students to showcase their creativity, innovative ideas, and passion for science. Science fairs like this have been an essential part of the education system for many years, providing an opportunity for students to develop their critical thinking, problem-solving, and communication skills.
According to recent statistics, over 7 million students in the United States participate in science fairs each year. Science fairs have become so popular that they are now being held not only in schools but also in science centers, museums, and other community-based organizations. Science fairs provide students with a hands-on approach to science education, engaging them in a way that traditional classroom learning cannot. Furthermore, science fairs encourage collaboration, teamwork, and mentorship opportunities, as students often work together with their peers or receive guidance from teachers and experts in the field.
The benefits of science fairs extend beyond just science education. Participation in science fairs has been shown to increase students' self-confidence, motivation, and interest in science and technology fields. In fact, research has shown that students who participate in science fairs are more likely to pursue careers in science, technology, engineering, and mathematics (STEM) than those who do not.
In light of the Insights' Sun Country Regional Science and Engineering Fair and these statistics, Insights Science Discovery and the STTE Foundation believe that science fairs are an essential tool in inspiring the next generation of scientists and innovators. We encourage parents, teachers, and community organizations to continue supporting and promoting science fairs as a valuable educational opportunity for our youth.
For more information on the Insights Sun Country Regional Science and Engineering Fair, please contact Insights Science Discovery at (915) 534-0000 or visit their website at https://sttefoundation.org/insights/.
Contact: Alysha Swann
Title: Executive Director
Phone: (915) 217-6313
Email: [email protected]
Insights Science Discovery
Central Office, 4120 Rio Bravo St #117
El Paso, TX 79902
Phone: (915) 534-0000
Website: http://www.insightselpaso.org/